It's been 10,000 years...
Ciao, jammers! Bon here, with a RR of Beards! Much thanks to
Ronen Jamaa
for the awesome idea!
The member/nonmember beards have been Jamaa's most popular article of facial hair. First released in the beta stage, beards have definitely grown on us. #notsorryforthatterriblepun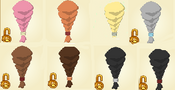 Beards, like many other items, come in 8 colors.
Popular Opinion Rarity Rating
1. Orange
2. Black (red tie)
3. Black (white tie)
4. Brown (red tie)
5. Yellow
6. Gray
7. Brown (orange tie)
8. Pink
Definition Rarity Rating
1. Black (red tie)
2. Brown (red tie)
3. Yellow
4. Black (white tie)
5. Pink
6. Gray
7. Orange
8. Brown (orange tie)
Now, I know what you're thinking. Bonsaii, what is this madness!?
ORANGE iS the BESTEST COLOR! WHY IS NUMBER 7??!!11!
I have a method to my madness, my flouncy tutus.
Following the release of The Forgotten Desert, many items lost their rarity status. One of these was the orange beard. All beards could be received as a treasure, but the unlucky orange came far more often than the other colors. The new orange one was member item. The original, non-member orange beard has yet to be seen. It was likely reverted to member, or deleted entirely.

Truly a sad, and terrible story.
Now, onto the Rare Beard(s)!
The silver rare bear, with a orangey-purpley tie was released at the Leap Year Party of 2012. It's not quite as rare as a non-rare one, but you could easily trade one of these and another TFD item for a non-rare beard.
I just realized I spelled beard wrong, forgetting the d and making it bear.
A silver rare bear, huh? Let's go to GOOOGLLLLEEEEE!
*5 minutes later*
*Bonsaii sees this as the 9348th thing*
AHHHhHHHHHHhhhhhHH
SHUTTERSTOCK
WHAT ARE YOU DOING
THAT IS NOT A BEAR
THAT IS NOT A BEAR
THAT IS A NAKED MOLE RATE DEMON MONSTER THAT WILL HAUNT OUR DREAMS FOR THE REST OF ETERNITY
AHH.
(no offense to the naked mole rats reading this right now <3)
Let's go to something purple and fuzzy for some comfort.
Sorry, kitty. We weren't talking to you.
Oops, wrong purple-fuzz machine.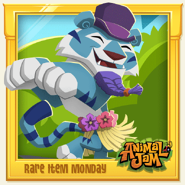 There's the one! The purple rare beard was released on September 22nd 2014 as a RIM. You can see our post about it
here.
As most RIMS that appeared after 2013, it's worth other RIMs. It's very fun to try and make outfits with this little guy though. Arthop, where are ya?
That's all for today! See you later!
Hey guys! Bonsaii here, back from that looooong hiatus. I'll be posting this Monday, so tune in for more details on why that break was soooo long. See ya!
<3